•Re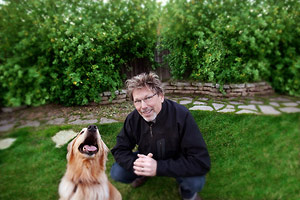 RECENT MEDIA!
Popular Photography Magazine - "Tips from a Pro: Gary Parker's Dog Photography. CLICK HERE to read the article!
Popular Photography Magazine - "How To: Shoot Better Cat Portrait Photos" featuring Gary's tips for better cat photography. CLICK HERE to check it out!
GARY PARKER QUICK STATS: National Award-Winning Advertising, Corporate and Editorial Photographer, Gary Parker draws heavily upon natural energy to elicit a natural response from his subjects, from kids to pets to executives.
• Pulitzer Prize in Journalism – Co-recipient San Jose Mercury News National Newspaper Photographer of the Year (twice) / Southern Photographer of the Year / National Lecturer on Lighting, Creativity and other topics…
• Communication Arts Photography Annual, Luerzer's Archive, Best of International Advertising Photography Annual Advertising Awards
• Lectures/Workshops: Lighting, Portraiture, Photographing cats and dogs, creativity, managing personalities
• Lecturer and Workshops: Specialties - lighting, portraiture, creativity, managing personalities, photographing animals
• Television: Featured in Discovery TLC Documentaries – "Kenadie's Story Part II" and Romeo Dev "The Worlds Smallest Bodybuilder" as the world's most prolific photographer of Dwarfism, especially Primordial Dwarfism.
• Original Creator/Associate Producer, "Big Tiny" TV Series featuring Bridgette & Brad Jordan, the World's Smallest Lady, and World's Smallest Siblings
• Pro Bono Photographer for Little People of America and creator of the largest library of Dwarfism images in the World.
GARY PARKER FULL BIO
Forget the usual adjectives. When it comes to Gary Parker and his unique brand of photography, you need a whole new lexicon. In fact, forget words. Begin with this: picture what an 8-year-old boy would do with a camera if he had 25 years experience winning awards in advertising, corporate and photojournalistic photography, could light anything large or small and could read the minds of dogs and, go figure, even cats. Oh yeah, and inject enthusiastic natural energy much like that of a very active 8-year-old boy...
One can safely say no one sees the world quite the way Gary does. He's a kid at heart with a very adult competitive edge - born probably of his early years as a record-setting athlete - who somehow manages to balance a precise intellect with a seemingly reckless emotional abandon.
Owing to his background as an award-winning photojournalist, Gary has shot everything conceivable under every imaginable circumstance. He thrives on deadlines, quick-turnarounds and is known for his creative location-lighting solutions. And he's versatile, equally comfortable chatting it up with a herd of cows as chewing the cud with Bill Gates, be it in a studio or on location. In a word, he's a pro. Or, as one NY ad agency creative director recently put it, "Gary Parker is the real deal."

Gary learned the real deal while in the trenches working for a half-dozen newspapers and magazines. From his earliest years, when he was named Southern Photographer of the Year and twice National Newspaper Photographer of the Year, Gary has been known as a gung-ho, get-it-done, inspirational artist and teacher who shoots as much for fun as for the challenge of eliciting and capturing an emotional response.
Gary's hallmark is in getting to the soul of his subjects. No one's quite sure how he manages, but Gary elicits from his subjects - human adult, child, animal, four-legged or two-toed - the part of themselves most of us try to hide - the spirit within. Gary figures it's his energy. Or his spontaneity. Or his willingness to do just about anything to get a truly "real" emotional response. All likely stories from a guy who hasn't a clue what others sense immediately. What Gary has to spare is contagious energy and power - the unique, indescribable ability to make people want to please him.
An observer once noted when Gary walks into the room, the air shifts. His energy is immediately palpable, fundamentally irresistible, and ultimately contagious. Children, animals and "real people" - his favorite subjects - respond to him in ways which often evokes marvel from the creative people for whom Gary and his team resolve visual problems. Even his adult subjects often find the child within when Gary aims his lens.
RAVES!!!
••• "Wow, you can certainly work up some magic in a barely-open then fast-closing 5-minute window! I don't know how you did it but these turned out great. Thanks again for coming to campus for this shoot, and for being patient and flexible and a pleasure to work with throughout!"
Scott Behles / SAP Director, Corporate Media
••• "I just want to thank you for the amazing picts. Oh my god, it's absolutely perfect and what we looked for. And I love the picture…., just wonderful, so natural!!!! Even with the situation that hard, you definitely wouldn't have needed more time. You've nailed it !! :) Thank you so much for your support and your skills. The light is just perfect as well".
SAP's German Ad Agency Art Director, Barbara Bucken, on Gary's Annual Report Photography
••• "Gary Parker redefines the word prolific with off-the-chart energy and a palpable zeal for authenticity. Whether two legs, four legs, short legs or no legs - famous or not - Gary will shoot from above, below, from within two feet and from down the block before others even get their camera on the tripod.
His experience with lighting is as skilled as it comes. He gets it technically right even though his shoot is like riding on the back of controlled chaos and spontaneity, garnering genuine and fresh expressions every time. He could get a smile out of a rock. You could say Gary is one of the very best in the biz."
George Fulton / Past President - American Photographic Artists
CLIENT RESUME . . .
CORPORATE & TECHNOLOGY:
Apple, Applied Materials, CentroSolar, Cisco, Cogenra Solar, Complete Genomics, Dow Jones, Inc., EFI, Facebook, Fiberzone, Fujitsu, HP, Hitachi Microsystems, IBM, Idexx, INS/Lucent Technologies, Intel, KNTV, Microsoft, NetApp, OnPharma, Plantronics, Pulmonx, San Jose Convention & Visitor's Bureau, Sony, Tabula, Tibco, Togos, Topcon, VeloDyne, VeriFone, and many others...
ADVERTISING:
Purina Cat Chow, Purina, Iams/Eukanuba, Milk Bone, PediaSure, Pedigree, PetFree, PetSafe, Pfizer Pharmaceuticals, Nestles, Procter & Gamble, Alaska Digitel, Allied Signal/Fram, Atlantic Bank, Avoderm, Bayer/Merit, BBC, Bell Helmets, Buster Brown, Costco, Del Monte, Discovery, Fairmont Hotels, FidoPharm, Ford Motor Company, Societe Generale/Bank du France, Starter Athletic, Tony Lama, US Postal Service, and others…
MAGAZINES:
New York Times, Wall Street Journal, Time, Fortune, Money, Newsweek, MacWorld, Sunset Magazine, Southern Living Magazine, Oxmoor House Books, Sports Illustrated, Information Week, Harvard Magazine, Consumer Reports, EE Times, Costco Connection, State Farm Magazine, Harvard Alumni Magazine, Communication Arts, Luerzers Archive, Publish, VAR Business, , Mother Jones Magazine, Popular Photography, der Stern Magazine, Southern Accents Magazine, Mix Magazine, Interactivity Magazine, Electronic Musician, L.A. Times, West Magazine, Alaska Airlines Magazine, Pulse Magazine, Expressen Sweden, Pick Me Up, See & Hear Norway, Pan Media South Africa, Woman Day Australia, Closer and others...
TELEVISION:
Appearances; Discovery/TLC Documentaries – "Kenadie's Story Part II", Discovery/TLC Romeo Dev "Worlds Smallest Bodybuilder",
Photographs on TV; ABC News - Medical Mystery, The Dr. Oz Show, Discovery/TLC Documentaries – "Kenadie's Story Part II", "Romeo Dev – The Worlds Smallest Bodybuilder",
PRO BONO:
Gary's enthusiastic approach brings into play years of experience as a Pro Bono photographer and ambassador for Little People of America and, specifically, his support of the Primordial Dwarfism community.
In 2009 Gary and his wife Kimberly were named Honorary Lifetime Members of Little People of America for their contributions towards increasing Dwarfism awareness globally through Gary's landmark Little People photography, the largest body of work of it's kind in the world. Gary's work was highly lauded for the dignified and respectful manner in which Gary photographs the subjects he has come to love.